The short version: I got a new haircut and colour and I love it!
Of course, this being me, a rose is never just a rose 🙂
Going to the salon, having someone fuss over me and change my look was comforting and fun.  And yet inside there was that little niggle of *should*s.  I shouldn't be spending the money.  I should embrace myself just as I am and love myself no matter what my hair looks like.  I should be loyal and going to my regular stylist and not someone new.  I shouldn't feel shame that I feel like a fish out of water at this trendy salon. I should be eschewing the cultural norms that tell me I need great hair to matter in this world.
Sigh.  I think way too much.  (See?  Even there, I'm being hard on myself… it never stops!).
Let me try challenging some of my shoulds:
I acknowledge that my worth is not determined by physical appearance
I am a part of the culture and do not stand outside of it
I deserve some self care and fun
It is good for me to focus on something other than body size
I used a coupon to cut down on the cost
It is not incompatible to know that my value comes from who I am and also to enjoy being feminine
I am not, and do not need to be, perfect.
That last one is the one I am striving to embrace.  I unrealistically push myself to always have the right feelings and right actions, as if such a thing is even possible.  I want to accept that I can care about body and self image and still love the feeling of being pampered.  Feeling guilty about it only spoils the experience… it doesn't change anything aside from poisoning my internal state.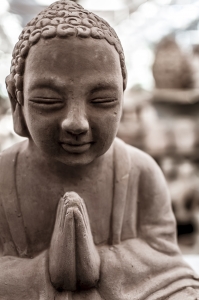 I am going to take this as an opportunity to be kind to myself.  My counsellor has been teaching me to do this for myself and I'll likely mention it frequently on this blog.  Be kind to myself.  Having more compassion for myself is a powerful practice and helps me to accept myself.  To accept my imperfections and my natural contradictions without harsh self judgment.
I told you I think too much… and this over a haircut.  The internal dialogue for issues of social justice is brutal 🙂
Back to celebrating what is – I love my new hair!